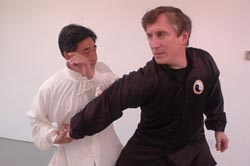 Ken with Chen Xiaoxing - 2006
Sifu Ken Gullette -- A Life in Martial Arts
Contact Sifu Gullette -- ken@internalfightingarts.com
Phone -- (309) 207-0011
Address -- 4712 27th Avenue -- Moline, IL 61265
In the early 1970's, millions of Americans--inspired by Bruce Lee and the Kung Fu TV show--crowded into martial arts schools and took lessons. For most of those people, it was a fad that quickly faded when they realized it required real work and physical effort. For others--like Ken Gullette--martial arts became a way of life.
Today, Sifu Gullette (sifu means "teacher") has students all over the world, studying with him through his online internal arts school.
Ken practicing - 1974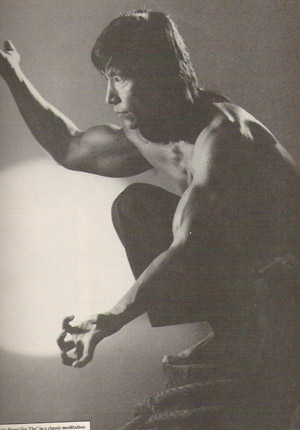 Ken's first teacher, Grandmaster Sin The
Hundreds more study his DVDs, which have been highly praised as some of the best instructional DVDs on Tai Chi, Hsing-I and Bagua available.
His first teacher was Sin The in Lexington, KY. Ken earned a brown belt in the Shaolin-Do system. He also studied Taekwondo for a while with Roy Crawford and Randy Chambliss in Lexington. In 1982, Ken moved to Cincinnati, where he studied Tien Shan Pai Kung Fu with Karen Vaughn, who was nationally ranked on the tournament scene. The photo at right shows Ken after winning first place sparring at a tournament in Cincinnati in 1983 as a student of Vaughn. Ken was 30 years old and wearing the wushu uniform of Karen Vaughn's Tien Shan Pai school.
In 1987, Ken moved to Omaha, where he found Sifu Phillip Starr's Yi Li Chuan system in the yellow pages. Pete taught tai chi, hsing-i and bagua, plus chi kung. Taoist philosophy was woven into the lessons. Ken earned his black sash in Yi Li Chuan in 1997.
He began teaching in 1997. Among his first students was Rich Coulter, who became Sifu Gullette's first black sash student in 2001. Sifu Gullette started by teaching the Hsing-I, Yang Tai Chi and Bagua he had learned under Sifu Starr. Ken began to discover there were missing parts to his kung-fu. He asked questions and joined the Neijia List, a listserve featuring Mike Sigman. Ken began hearing terms he was unfamiliar with -- ground path, peng jin and more.
In 1998, he met Jim and Angela Criscimagna, students of Grandmaster Chen Xiaowang (now disciples). In one hour of training with Jim and Angela, he saw a higher quality of tai chi, and he began studying Chen family tai chi with Jim and Angela. Through them, he also learned from Grandmaster Chen Xiaowang and Master Ren Guangyi, one of Chen Xiaowang's senior students.
In the decade that followed, Sifu Gullette also became a student of Mark Wasson, a disciple of Chen Xiaowang, and during these years he also met and learned from Grandmaster Chen Xiaoxing and Master Chen Bing. In 2006, Ken and Nancy sponsored Chen Xiaoxing's visa to the U.S. The master stayed in their home in Bettendorf, Iowa, for a week.
Sifu Gullette decided in 2006 to become independent and learn from as many experienced Tai Chi people as he could without being labeled a student of anyone.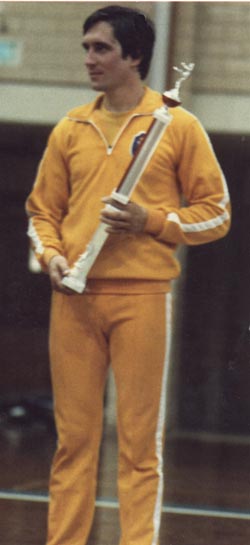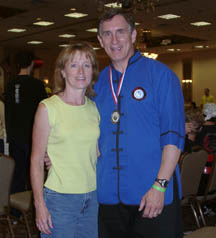 Ken and Nancy after Kin won the gold medal in advanced Hsing-I forms at a Chicago Kung-Fu tournament in 2003.
In 2005, Ken and Nancy bought their own building and started a kung-fu school, but Ken quickly realized that running a profitable school meant sacrificing some quality aspects of the arts. They closed the school in 2007, and on July 4, 2008, he launched his online school at www.internalfightingarts.com.
"The idea for the online school came from some emails I've received over the years from people living in areas that don't have good internal arts teachers," says Ken. "
Now, he has members around the world, each paying a small monthly fee to study the video lessons and other material on the website. He creates the videos (Nancy is often the videographer) and adds new lessons almost daily. Members from Japan, the Netherlands, England, Malaysia and other nations call the website "amazing," and say it "exceeds expectations."
The site is not intended for certification -- it's too difficult to do that by distance learning. It is intended to provide information to supplement your training and to provide insights and concepts your teacher may not know, or perhaps hasn't told you yet.
Sifu Gullette works with a small group of students in the Quad Cities while developing videos and material for his online school. He is producing more instructional DVDs that are very popular to martial artists around the world.
In 2006, Taekwondo Times ran a story on Tai Chi, featuring Sifu Gullette and his experience training with Grandmaster Chen Xiaoxing (brother of Grandmaster Chen Xiaowang), who is in charge of all tai chi training in the Chen Village. The focus of the article was to show other martial artists that their perceptions of tai chi are wrong. It is not a "soft" art -- it's a powerful fighting art.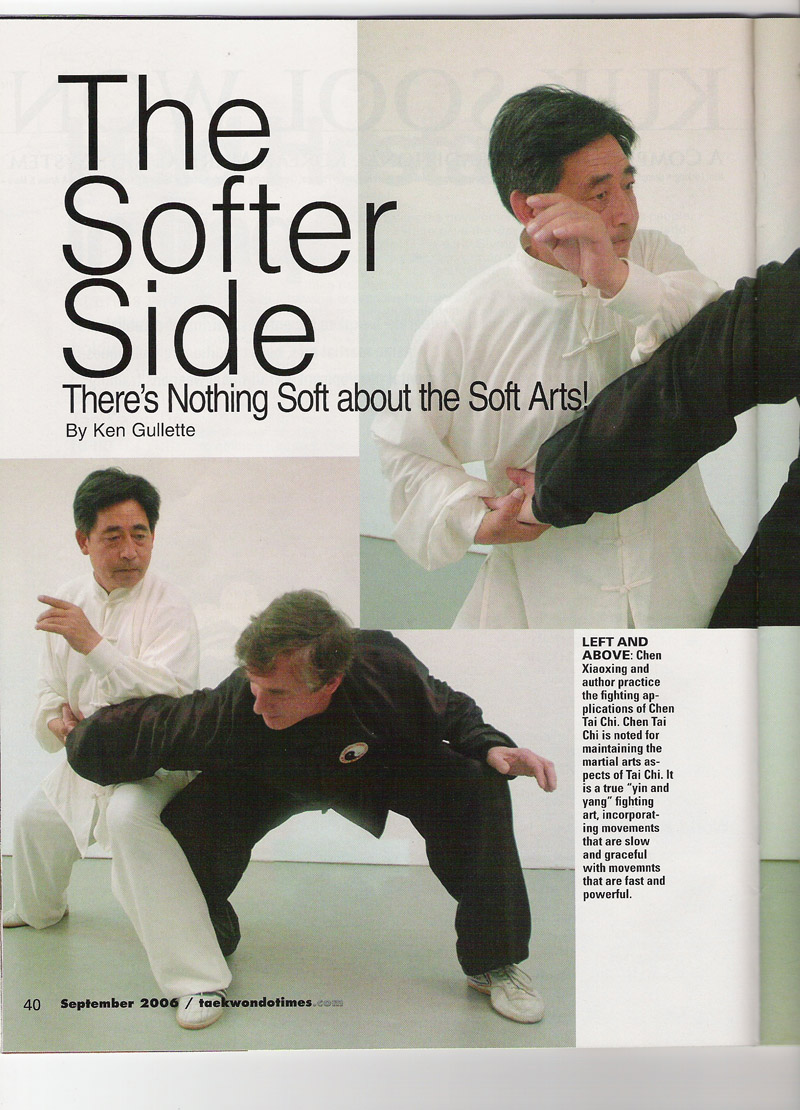 Shortly before he sponsored Chen Xiaoxing in the U.S., Ken was certified as an instructor with the U.S. Chen Family Chen Jiajou Taiji Quan Federation, connected directly to the Chen Village tai chi school through Grandmaster Chen Xiaoxing. A photo of the certificate is at left.
The future is exciting to Ken, who is now 62 years old. "I just intend to keep improving slowly and learning what I can, then passing what I learn to the people who study with me."