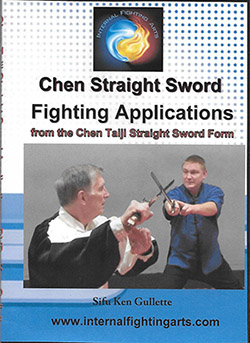 Learn the Meaning Behind the Chen Sword Movements
On this DVD, Ken demonstrates and coaches you through 79 fighting applications from the Chen Straight Sword form. Intercepting, parrying, deflecting, adhering, controlling, and countering with various cutting techniques -- you will learn at least one application for each movement in the form. Ken demonstrates each technique with a student who he coaches through the application and the body mechanics.
PLUS -- there is a detailed section on going from form to fighting. From the basic front on-guard stance, Ken takes you step-by-step through training with a partner. This DVD runs 1 hour 48 minutes. There is FREE SHIPPING anywere in the world, and a MONEY-BACK GUARANTEE if you are not satisfied for any reason.
See the clip below and click the "Add to Cart" button for a secure order page and fast delivery.
Click Here for Secure Ordering!